EPDM Rubber Roofing in Parkesburg, Pennsylvania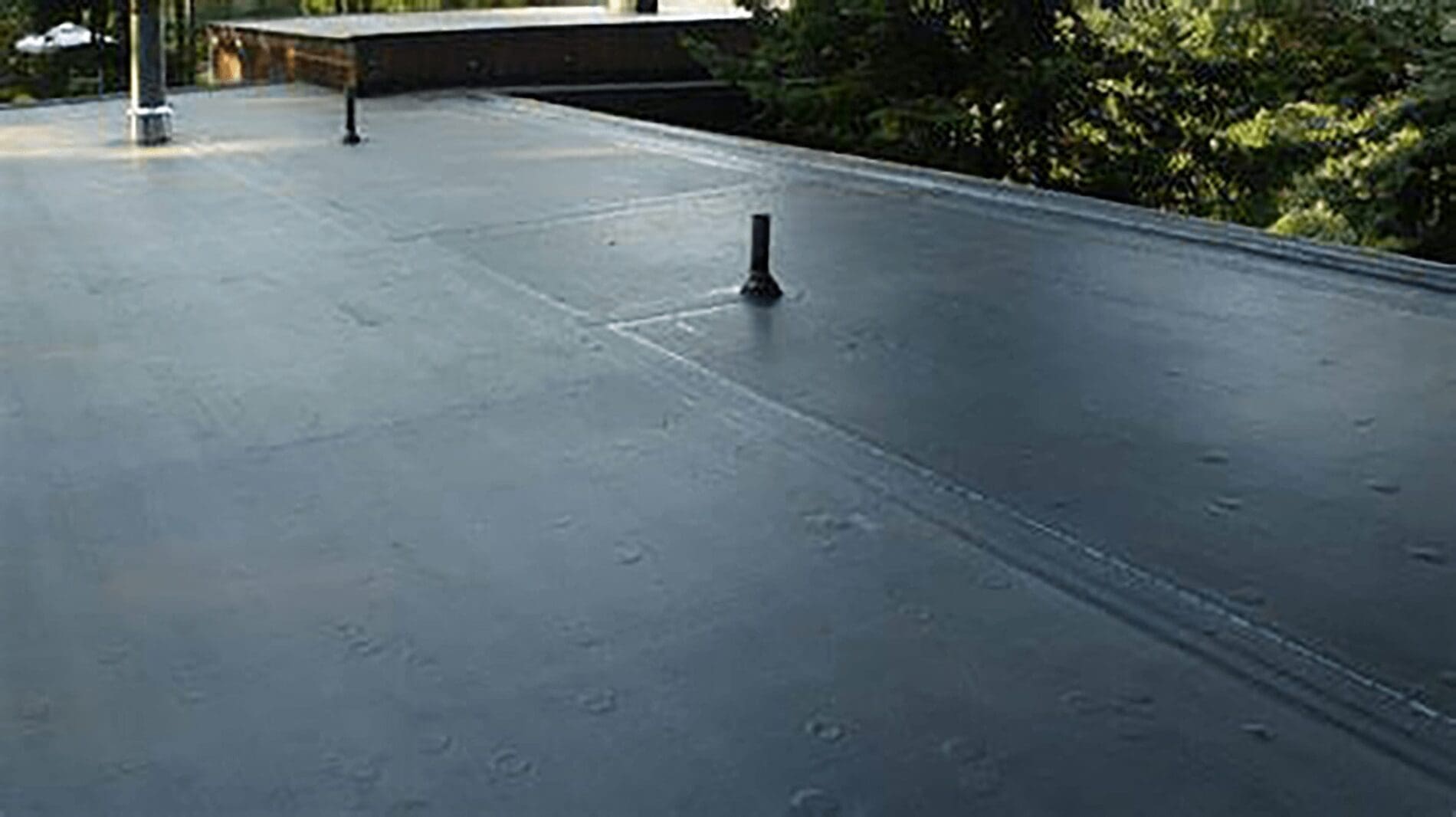 A roof that is nearly level or slightly pitched is called a low-slope roof. No roof should be dead level flat, it should have at least a slight slope to drain.
Problems in Low Slope Roofing in Chester County are more common and more difficult to diagnose than pitched roof problems because the path of water leakage through flat roofs is often quite hard to trace.
If your low slope roof needs maintenance, repairs, or replacement, the best thing to do is hire a Lancaster and Chester County low slope roofing technician to handle the job for you.
Our Chester County Roofing Technician provides professional Low Slope Roof and Flat Roof installation, maintenance, and repair in Lancaster and surrounding cities of Pennsylvania. We have the knowledge and expertise to get the job done efficiently and professionally. We work with residential clients in the Lancaster and Chester County areas. We have completed many low slope roofing projects in the area and have hundreds of satisfied customers.
Ethylene propylene diene monomer (EPDM) is a durable rubber material that doesn't look unlike that used for an inner-tube, but it's resistant to damage from sunlight. This material can be mechanically anchored to your flat roof with fasteners, ballasted with stone, or glued on.
Rubber membrane roofing is very light, but it's also very resistant to damage. Maintenance for rubberized roofs is fairly easy, and leaks can be repaired inexpensively. However, EPDM roofing is more vulnerable to punctures, and it can also be more expensive upfront than some other roofing materials. Lighter colored versions of EPDM, which are recommended for warmer climates, can cost more than the standard black versions.
Our Roofing Technicians Provide These Detailed Low Slope Roofing Services
Low slope metal roofing
Low slope roofing shingles
Low slope roofing repairs
Low slope roofing replacement
Low slope roofing maintenance
Low slope roof installation
Low slope roofing technicians
Low slope roof estimates
Low slope roof leaks
Low slope roof materials
Low slope roofing systems
Low slope roofing treatment
Low slope roofing company
Maintenance for Flat or Low Slope Roofing
Our Low Slope Roofing in Chester County technician will go over your options for roofing materials with you and help you decide on which would be best for your low slope roof, your Lancaster or Chester County home, and your budget. After the installation, we can continue to help you with regular maintenance and any repairs that you need for your Low Slope Roofing in Chester County. We have more experience and more expertise than any other roofing company in the area, and we'll be ready and eager to assist you whenever you need us.

Diversified Roofing Co.
5681 West Lincoln Hwy.
Parkesburg, PA 19365
Phone: 717-442-8422