Gutter Repair Services in Parkesburg, PA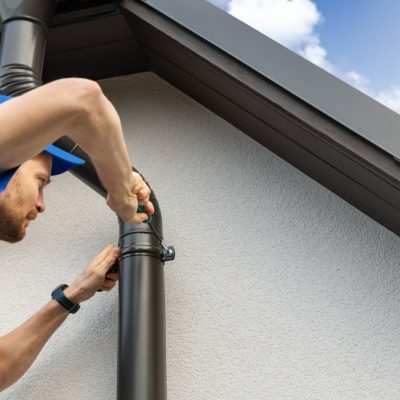 The gutter system of your home is extremely important for the protection of your home. When your gutters become damaged, they cannot usher away water, causing possible foundation damage. 
We are the gutter experts homeowners in Parkesburg, PA can rely on for all their repair and installation needs. Our roofers will come out and inspect your gutter system to determine if it can be repaired or needs to be replaced. 
If your home needs gutter repair, it may be tempting to approach it with a DIY effort. Unfortunately, damaged gutters can lead to serious problems, and if they are not repaired appropriately, they will not protect your home. 
It is best to leave your gutters in the capable hands of our expert roofers. Call us right away, and we will be happy to come out and carry out gutter repairs right away.
Homeowners need to be aware of the signs that may occur when they need gutter repair. If you notice the following, we urge you to contact our roofers right away. Diversified Roofing is committed to ensuring your home is protected. 
Do your gutters look uneven, or are they sagging? Sagging gutters mean the gutter system of your home is no longer attached correctly. 

If the gutters are broken, they need to be repaired or replaced. Broken gutters will not protect your home and will lead to damage over time. 

Have you noticed mildew and mold growth in your attic? If so, your old gutters could be to blame.

Contact Diversified Roofing

right away for repairs. 

Have you noticed your siding becoming warped or peeling paint on the sides of your home? You may also notice rusting metal. These are all signs your gutter system is not working appropriately. 

If water begins to pool around your foundation and it always seems wet, give us a call right away. Your gutter system could be causing problems because of leaking gutters. We will find the cause of your leaks and repair them right away. 
If you notice any of the above signs, we urge you to contact us to schedule a repair appointment. On average, gutter systems last 20 to 50 years, but they need ongoing maintenance to keep them working correctly. 
Waiting too long to repair gutter damage can lead to major damages to your home's exterior and eventually the interior. Home damage can occur rapidly, and foundational damage can be expensive to repair.
Professional Gutter Repairs
It is sometimes difficult to determine if you have gutter issues until major problems begin to develop. Our roofing company can handle all types of gutter repair. 
Do not put your home into the hands of novices. We are experts in our field and work to ensure 100% customer satisfaction. We will treat your home just like our own. 
There is a reason so many homeowners in Parkesburg, PA rely on our roofing contractors. We stand behind our work 100% and are fully insured and licensed. 
Our roofing contractors must go through extensive training to ensure they are prepared to take care of all your roofing needs. We perform background checks to ensure your safety. 
When gutter or roofing problem arises, we are the name to call. If your gutter system needs to be installed or you have an old system that needs to be replaced, we will be happy to schedule your services right away.
Call Diversified Roofing Co. For Gutter Repair Services
Gutter systems need proper maintenance and repairs throughout their lifespans to keep them working appropriately. At Diversified Roofing Co., we are committed to helping our customers keep their homes safe against water damage. 
If your gutter system is old and outdated or showing signs of repair issues, give us a call today at 717-442-8422. Our customer service team is standing by now to take your call. 
We will be happy to answer any questions you may have and give you solid insight on your gutter situation. Although you may be tempted to take matters into your own hands, we urge you to rely on our professional contractors who have many years of experience handling all types of gutter systems and damage. 
No matter whether you need minor or major gutter repair, we will be there for you when you need us most. Read our customer reviews, and you will instantly discover why so many homeowners in Parkesburg, PA rely on us for all their roofing needs.