Gutter Installation Services in Parkesburg, Pennsylvania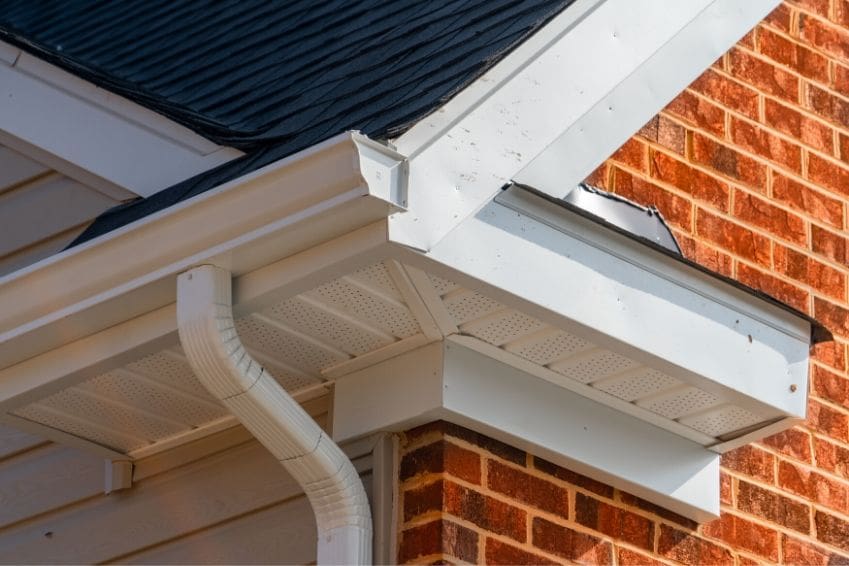 With the amount of rain that Chester and Lancaster Counties get, you can't afford to go without reliable gutters. Poor drainage can damage your roof and foundation or lead to mold and other issues in your home.
Diversified Roofing is a team of local roofing specialists who can provide for all of your home exterior needs, including new gutter installation. We'll ensure that your home has both adequate drainage and great curb appeal with reliable, high-quality gutters.
Professional Gutter Installation
The finicky roof and gutter experts at Diversified Roofing can provide you with an extensive range of gutter options. We install many different types of gutters to suit your home's unique drainage requirements and style. Such as, half round gutters, K-gutter, box gutter, built-in gutters and Rainsense Seamless gutters. As well as all the trim details for the soffit and fascia.
Our most popular gutter installation option today is seamless gutter installation. This method installs long stretches of uninterrupted material to eliminate any joints other than the corners.
Gutters are always more likely to develop leaks at the seams, so RainSense seamless gutters are more durable and effective in handling drainage. Not only that, but the lack of any seams also improves their appearance.
RainSense seamless gutter installation is only possible with professional equipment for gutter and roofing installers. It's the best option available for your home today, and Diversified Roofing has the skilled team and professional equipment to provide you with seamless gutter installation.
Our gutters are available in a variety of colors and styles to match your home, along with many features for unique drainage situations. You can also replace your gutters and siding at the same time to save money and match styles. The whole-home exterior experts at our roofing company can handle it all.
Gutter Guards
Anyone living in Chester and Lancaster Counties is no stranger to the effect that fall leaves can have on their home's gutters. The blockages that these leaves cause can seriously impact your roof, potentially leading to water damage. Regular gutter cleanings are an effective solution, but there's another way.
Diversified Roofing can install premium gutter guards to keep leaves and other debris out of your gutters for good. The metal mesh covers go over your gutters and prevent debris and pests from getting past while letting water through without resistance.
The leaves that the gutter guard blocks eventually dry up and blow away because they aren't trapped inside the gutter. With gutter guards, you can avoid blockages without the trouble of regular gutter cleanings.
Why Your Home Needs Quality Gutters
Gutters are an essential part of your home's drainage system. Reliable, high-quality gutters can save you a lot of trouble and prevent you from needing extensive repairs in the future.
Your gutters carry water away from your home to prevent it from pooling around your foundation. Over the years, this water could cause irreparable damage to your home's foundation. Our technicians provide a thorough inspection and cleaning of your gutters upon request.
There's also a link between gutters and siding. Your gutters keep water from pouring directly over the edge of your roof and potentially leading to moisture getting through your siding. This can cause mold and other long-term issues.
Finally, having good gutters is essential to protect your roof. If water is pooling in your gutters due to blockages, sagging, and other factors, you could find yourself with a damaged roof. The water can increase the moisture in your roof, causing long-term damage.
During the winter, standing water in your gutters can freeze and contribute to ice dams. These form barriers that prevent water from running off your roof, leading to a leaking roof and other issues.
Keeping your gutters in good repair is the best way to ensure that you don't suffer from a damaged and leaking roof year-round. We're the roofing company to handle your next installation.
Is It Time for New Gutters?
Not sure if it's time for a change yet? Here are some key signs to watch out for that could indicate that you need new gutters.
Visible cracks

Bent or sagging gutters

Rot around the gutters

Mold or moss on your home

Overflowing gutters
You might just need a few repairs, or it could be time for a replacement. Our experienced gutter and roofing specialists/technicians can let you know.
Many homeowners also choose to reach out to our expert roofers for whole-home exterior overhaul. Our experienced team handles roofing, siding, windows, soffit, fascia and gutters. We can do it all for you so that you can save money and develop a consistent style for your home.
Gutter Installation in Chester and Lancaster County, PA
Having trouble with your gutters or just looking to update your home? You can contact Diversified Roofing today to find out what your options are. We can help you with any home exterior project, from fixing a damaged roof to installing an all new RainSense gutter system.


Diversified Roofing Co.
5681 West Lincoln Hwy.
Parkesburg, PA 19365
Phone: 717-442-8422