Siding Repair in Parkesburg, PA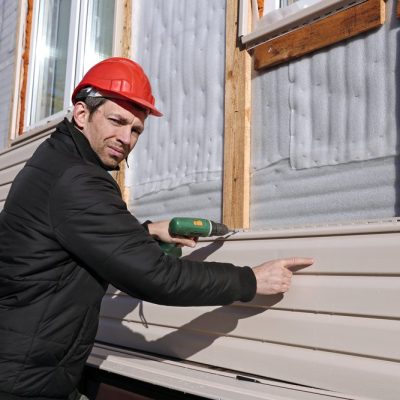 Your siding remains exposed to the elements continuously. This constant exposure makes it difficult to protect the siding from damage. If you need siding repair in Parkesburg, PA, call Diversified Roofing Co. We will send a siding repair contractor out to repair your siding and replace it when necessary. 
Our team is here to help, regardless of what you need for this essential household component. We can complete a cedar siding repair, vinyl siding repair, aluminum siding repair, and wood siding repair. Our team undergoes training to ensure they can address any issue. We will send a siding repair contractor out promptly to minimize damage to your home and resolve the issue. 
Call us today at (717) 929-8566 or contact us online to discuss your home siding repair needs in Parkesburg. We can help repair any issue you are experiencing.
Signs You Need Siding Repair Services
Always examine your siding following a significant storm. If you see any loose or cracked pieces, call our siding repair company. Prompt action helps to keep the cost of repairs down.
Water damage, rust, rot, mold, and insect damage are other causes of concern. Small cracks and holes might not appear to be significant issues, but they reduce the level of protection the siding can offer. An insect or water can make its way through minuscule holes, so a quick siding repair is crucial to protecting your home.
While the average homeowner can tackle a minor siding repair, it's best to leave this job to the professionals. Any mistakes made during the home siding repair could lead to extensive damage to the structure. A cedar siding repair also differs from an aluminum siding repair, which is why you need someone who has extensive training in siding repair services.
When a technician from Diversified Roofing Co. visits your Parkesburg home, they don't focus solely on the area in need of house siding repair. They examine the entire structure to find other areas of concern. Acting quickly when it comes to siding repair will help save money in the long run. We help you identify any problem areas so that you can have a house siding repair done immediately or budget for one in the coming months.
Should You Repair or Replace Your Siding?
Customers often ask us if it would make more sense to replace the siding. While we are happy to complete a vinyl siding repair or a wood siding repair, we let you know when we feel replacing the siding would be in your best interests. We only make this recommendation when doing so will save you money while adding to the home's value.
We understand that replacing the siding on the home is a major task that comes with a high price tag. Our siding repair company always looks to offer repair solutions that extend the lifespan of the siding for several years.
When making a recommendation for repair or replacement, we consider several factors. These factors include the age of the siding and the number of times you have had to call for a repair in recent years. If repairs are ongoing, it often makes more sense to replace the siding.
However, if you only have a few small chips or cracks, a repair is the best solution. When the damage is limited to a few boards, we recommend a repair. If the damage is extensive or there is mass rotting, it is time to replace the siding.
Mold falls into a separate category. If we catch the mold early, we can typically make a repair. When it has spread to a major portion of the home, replacing the siding might be the best option.
Why Choose Diversified Roofing Co. for Your Siding Repair in Parkesburg, PA?
Many companies offer siding repair, so why should you choose us? When you work with Diversified Roofing Co., you get a team of trained professionals who have undergone drug tests and background checks before stepping foot on your property.
We have been serving residents of the area for over 40 years and hope to do so for decades in the future. That's why we only hire those people we would allow to work on our homes. In addition, our work comes with a satisfaction guarantee and a warranty that can be transferred to a new owner.
If you need siding repair in Parkesburg, call Diversified Roofing Co. at (717) 929-8566 or visit our contact us page to schedule an appointment. We look forward to showing you why we're trusted by so many homeowners.