Flat Roof Installation in Parkesburg, PA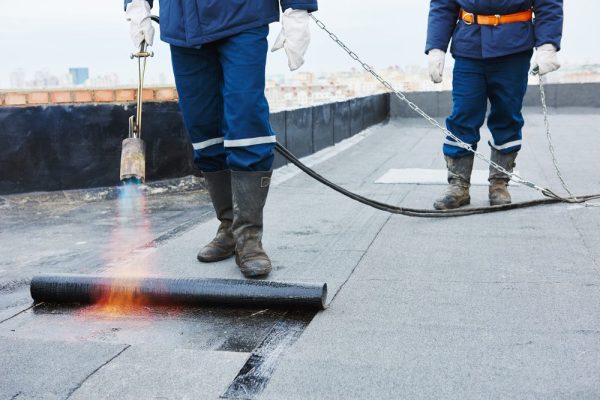 The chances are good that you've seen flat roofs in Parkesburg, PA on commercial buildings. Lately, though, there has also been a growing trend toward installing low-slope roofs on homes to add visual interest and complement a more modern aesthetic. 
Here at Diversified Roofing, we know that your home is a reflection of your personality and values. We want you to have as many opportunities for expressing yourself as possible, and that means having more than just the standard array of residential roofing options.
The Benefits of Residential Flat Roofs
Let's take a look at the benefits of residential flat roofs. There are plenty of reasons to consider flat roofing an attractive option for many residential applications. They include:
Flat roofs are easier to install than sloped roofs, overall. Because these installations take roofers less time to complete, you could wind up spending less money on the installation and keep future roof replacement costs low. As another added benefit, the relative simplicity of the installation process helps to keep the chances of human error to a minimum.
When properly installed, flat roofs are also easy to maintain. They're easy to clean, and if your roof develops issues over time, we can send a technician to patch the weak point without having to perform extensive repairs.
While it's not a good idea to walk on flat roofs all the time without reinforcement, all you have to do is let us know if you have creative uses in mind for your new roof. We'll be happy to discuss options for installing rooftop decks, gardens, and more.
The Drawbacks of Flat Roofs
While flat roofs are a great fit for many homes, there are still some drawbacks that you should be aware of. If you hire us as your roofing contractors, you can rest assured that we'll do everything possible to mitigate any drawbacks, of course, but we still want you to make an informed decision.
Potential Drainage Issues
Because flat roofs have very low slopes, drainage can become a problem. You'll need to inspect the drains frequently and clean them out as needed to protect your new roof from damage during serious rain and snow.
The Buildup of Dirt and Debris
If you have trees hanging over your home, leaves, twigs, and other debris can easily find their way onto your roof. They need to be removed often to avoid clogged drains and water damage.
Some homeowners prefer sloped roofs for the simple reason that they offer more choices in terms of materials, which can make a large difference in terms of a home's aesthetics. Not everyone likes the way that flat roofing systems look.
Is A Flat Roof Right for My House?
Whether you're commissioning a new-built home or just building an addition onto your existing house, the decision as to what type of roof to install is a big one. Flat roofs are an obvious choice for many types of multi-family dwellings, but they can also be incorporated into single-family homes to great effect. Consider the pros and cons of residential flat roofing systems before deciding what type of roof you want us to install.
Types of Residential Flat Roofing Systems
There are two primary uses of low-slope roofing for residential homes. First, you could have a new-built home designed to feature a full flat roof, creating a unique aesthetic and offering possibilities for additional rooftop installations such as decks, rooftop gardens, or full solar arrays.
The second potential application for residential flat roofing is more common. It involves installing a flat roof to create a transition between two differently sloped roofs, as with an attached garage or a new addition. This can create a unique look that's perfect for both traditionally styled and modern homes.
When it comes to materials, the most popular option by far is EPDM. Short for ethylene propylene diene monomer, EPDM is a membranous roofing system that boasts a long life expectancy, impressive durability, and the versatility required to be appropriate for both low-sloped and flat roofs. You can walk on an EPDM roof to perform maintenance and cleaning, and we can lay additional materials over your flat roofing system if you want to use the space more frequently.
Call Diversified Roofing Co. for Flat Roof Installation
Are you looking for a roofing company with experience installing residential flat roofs? If so, we've got you covered. You can contact Diversified Roofing Co. with questions about your upcoming project or call (717) 442-8422 to request an estimate or schedule a consultation with one of our dedicated roofing contractors today.