Roof Flashing Repair & Replacement in Parkesburg, PA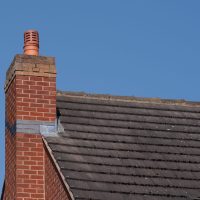 Your roof consists of many components. It is not just the exterior surface you see from the ground. Much more is involved. If one of these components is damaged or worn out, it can affect the structural integrity of your entire roof. For example, your roof consists of flashing, a vital component that keeps your home safe. If the flashing is damaged, it can't do its job, and the overall condition of your roof will suffer. Here at Diversified Roofing Co., we offer roof flashing repair and replacements. We have a team of skilled roofers ready to tackle any roofing problems you have. 
Excellent roofing services are just a phone call away. Contact us today for your residential roof flashing repairs in Parkesburg, PA.
Roof flashing is a thin piece of metal that directs excess water away from certain parts of your roof that can easily suffer water damage. Not every component of your roof is waterproof. Flashing protects the parts that can be affected by excess water. Steel is the most common type of flashing. Flashing can be found around specific parts of your roof, such as skylights, vents, and the edge of your roof.
Why Do You Need Flashing?
Without roof flashing, water can make its way into your home and cause severe damage. The same can be said for flashing that was not installed correctly. In fact, we recommend that you schedule regular roofing inspections to ensure that your roof flashing is not damaged or worn out. If your flashing is not in tip-top shape, our roofers will change that! You can count on us to ensure your flashing can step up to the challenge.
Your flashing may not always be visible from the ground. That is why regular inspections are necessary to detect damaged flashing. Our professionals will climb onto your roof to conduct a thorough inspection of your flashing. It is best to leave this job to roofing experts as it could be dangerous for those who are not used to climbing onto buildings. Additionally, our experts will know what sort of damage to look for. They will check your roof flashing for the following problems:
Missing nails

Gaps or holes in the flashing 

Dry sealant

Rust and corrosion

Loose flashing

Missing flashing
Our roofers will remove the necessary shingles or other roofing material to inspect and repair your flashing. If you need flashing or shingles, we must repair the existing flashing first. We do not apply new flashing over the damaged flashing. This makes it possible for water to get in between the new and old flashing. The older flashing will not be able to protect your home from this water, so your house may be at risk of leaks and water damage. 
That is why we remove the older flashing and replace it with new flashing. This ensures there are no gaps for water to make its way into your home. You can count on our years of roofing experience. We will never take shortcuts when it comes to roof flashing repairs. 
We also offer emergency roof flashing repairs for those unexpected storms that cause severe damage to your home. We will come to your aid as soon as possible to prevent further damage. Trust Diversified Roofing Co. for reliable roof flashing repair services.
If you need to install a new roof, you can count on us to install new flashing at the same time. It is best to install new flashing when you install a new roof. Unfortunately, we often have to remove parts of your roof to get to the flashing. This may lead to additional costs in the future. That is why we recommend a roof flashing replacement when you install a new roof.
Our roofing experts will discuss the different types of flashing with you and provide reliable advice on the right flashing for your house. Once these decisions are made, you can count on us to handle the rest. We will install your flashing correctly from the beginning, so you won't have to worry about unnecessary repairs in the near future.
High-Quality Roof Flashing Repairs and Replacements in Parkesburg, PA
When it comes to your roof flashing, it is best to leave it to the professionals at Diversified Roofing Co. We understand all the components of your roof and how they work together to keep your home safe from harsh weather elements. 
For all your roof flashing repair services, contact us online or call us at (717) 455-3019 to speak to one of our roofing experts.