Roof Repair Services in Parkesburg, Pennsylvania
Homeowners have an ever-growing list of home improvement projects. And for many of them, roof repairs or maintenance falls towards the bottom of that list. It's often because it isn't much of a DIY project, and many Chester County, PA, homeowners don't know where to begin. When does a roof need repair? And how do I recognize the damage?
Damaged or leaking roofs can lead to various problems, from energy loss to water damage. If you think you might be in a situation that requires roof repair, you'll need a solution quickly. 
Diversified Roofing is a roofing company dedicated to getting you the answers you need and the results you deserve. Call us first for assistance with your damaged roof if you're in the Lancaster County, PA, area.
How Do I Know If My Roof Needs Repair?
Professionals can often quickly diagnose a problem with your roof. But if you aren't sure if it's time to make that call, here are some warning signs. When you see them, you'll know it's time to pick up the phone and call Diversified Roofing.
- Missing or Broken Shingles
Shingles make up your roof. So if one domino falls, they can all start falling. If you've noticed any bad weather in the Lancaster or Chester County, PA, area, that's an excellent time to investigate your roof's health.
Age, environmental factors, and even pests can all significantly impact the health of your shingles and roof. If there are noticeably damaged, cracked, or missing shingles, call the trusted local roofing company, Diversified Roofing.
- Dirty or Dark Spots on the Roof
If you go outside and look at your roof, do you notice any discoloration? Dirt or discoloration usually means your shingles are starting to lose granules and need to be replaced. Dark spots could also indicate that you have algae growth.
Professional roofers can handle both situations, so call us to book an appointment if your roof seems to be changing colors before your eyes.
- Abnormally High Energy Bills
Higher heating and cooling costs could be a cause for alarm. A damaged roof means your precious warm or cool air could escape through your attic, causing your home and your wallet to be a lot more uncomfortable. Fixing the problem should bring those numbers back to normal, so calling a pro for roof repair is an excellent investment.
Light Coming in Through the Attic
Unless you've recently installed a skylight, the light coming through your attic is a major warning sign. The outside light indicates openings in your attic, and the next rainstorm could bring significant leakage and water damage with it.
Holes in your roof or attic are usually caused by wildlife and can be fixed relatively quickly, so call for assistance at the first sign of sunbeams where they shouldn't be.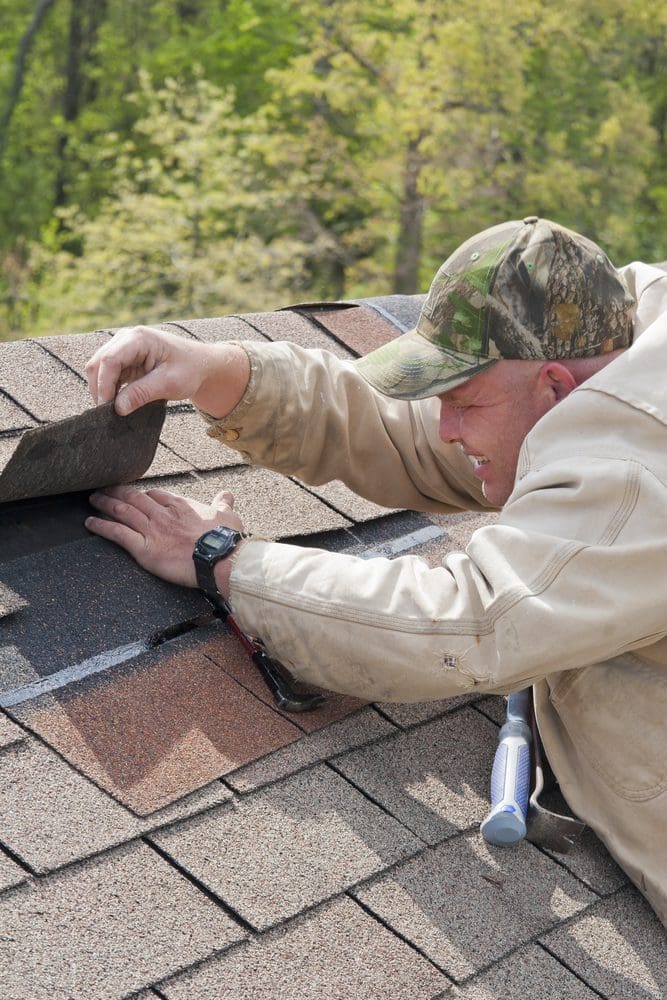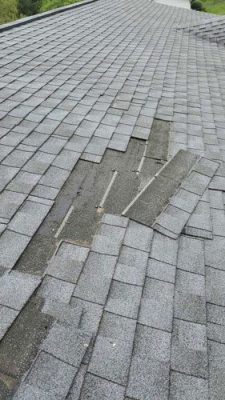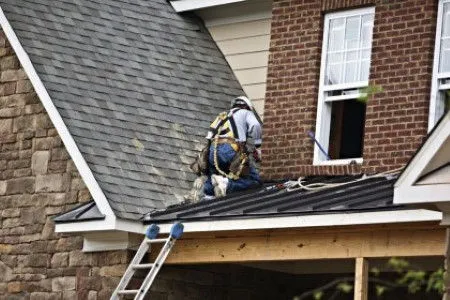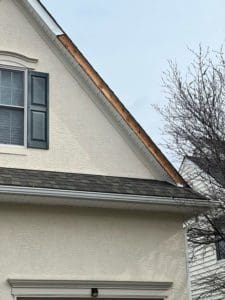 Flashing is an important part of your roofing system. It is the waterproofing details around the chimney, roof ventilation, roof edges, and the valley of the roofs. Its purpose is to direct water away from seams and joints, along with preventing water from seeping through cracks and openings.
How Can I Tell If My Roof Is Leaking?
A leaking roof is among the most problematic issues for homeowners. If leaks go ignored, the next snowstorm or thunderstorm could bring disastrous consequences.
Some leaks are glaringly obvious, while others tend to hide in plain sight. Homeowners should know how to recognize a leaking roof so they can contact capable roofing contractors right away.
-Water Spots on the Ceiling
Stains or spots on your interior walls or ceilings all point to water damage, and the source could be a damaged roof. Most spots will be noticeable, but they can also be tucked away in corners where homeowners are more likely to miss them.
-Exterior Wall Mold or Fungi
Moss, mold, and fungi all need moisture to survive and thrive. If they're starting to grow on your exterior walls, particularly in spots that generally get a healthy amount of sun, you could have a leaky roof.
The red alert – visible water dripping from somewhere it shouldn't be. Check your attic right away to see if you can discover the source of the leak. Call our team for assistance the moment you notice a leak from the roof. Leaks caught quickly enough are less likely to cause water damage to your infrastructure or belongings.
If It's Time for Roof Repair, It's Time for Action
Chester County and Lancaster County, PA, homeowners can put their faith in Diversified Roofing for all of their roof repairs.
Call one of our technicians to learn more and get your roof back to its former glory. Upon a scheduled visit with you, our specialists will perform a 21-point roof and attic inspection to alert you to any potential problems with your roof, including rotting, deterioration, organic matter, flashing problems, water leaks, etc.. We're the finicky roofers who have seen it all, and we're ready to bring our years of expertise right to your front door – and your roof and have you all sealed up in no time.
I had diversified roofing do a relatively small roof repair for me. They also re-flahsed/repaired flashing around several vent pipes. I worked with a gentleman named Anthony who was my contact from start to finish. He was very honest and straightforward with the work to be performed and the price to do so. They scheduled my work soon after contract acceptance, and showed up/completed the work to be done in a timely fashion. I would highly recommend this company to others.